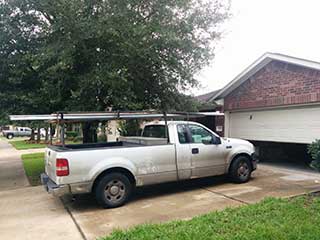 Automatic garage doors are very complex, and they consist of many different components that must all work perfectly together. Although these systems are built to be durable, there are plenty of problems that can inflict them over time. Whether you've got a worn-out torsion spring, a malfunctioning opener, a dented door panel or any other issue, our technicians will be able to help you out.
Malfunctioning Opener Repair
When your opener starts acting up, it can be hard to know what the root cause of the problem is. This complex device is comprised of both mechanical and electrical components, and all of them can experience some type of trouble over time, which often makes it hard to work out exactly what's wrong. Our team has years of experience working with every brand of opener there is - we've seen everything that can go wrong, and know how to fix it effectively.
Worn-Out Torsion And Extension Springs
Most garage door systems are fitted with one of two different types of springs, which are essential for raising and lowering the panels safely. These components only have a limited lifespan, and will typically wear out after a few years, depending on how often they are serviced. When they do break, it's essential to have them replaced by a professional - they will make it impossible for you to use your garage door, and the process of installing a new spring can be downright dangerous, as it involves adjusting a significant amount of tension.
Preventing Accidents And Breakdowns
Many garage door breakdowns are caused when parts wear out or corrode. This is fairly easy to avoid with regular maintenance, and we strongly recommend having your door serviced by our team to keep it functional for as long as possible. Some parts, like steel rollers, will eventually break down or wear out no matter how much you maintain them. When these components do finally fail to work, let us know. We'll install new ones in their place, and make sure your door is able to move smoothly once again.
Reach Out To Us Today
Whether you need emergency opener repair or to have broken spring replaced, our experts at Garage Door Repair Troutdale will be able to help you. Give us a call as soon as you find yourself dealing with a problem. We'll take over from there.
We also offer:
Oil Tempered Torsion Springs
LiftMaster Garage Door Openers
Roll up Garage Door Maintenance