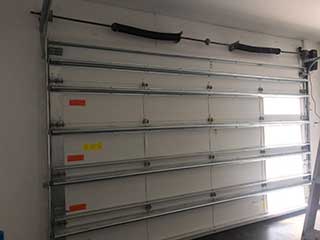 Springs play an important role when it comes to opening and closing your garage door. However, they're also the most dangerous part of the system, due to the high amount of tension they are subjected to on a daily basis. It's all too common for homeowners to be injured when they try to perform a task as complex as spring replacement by themselves. It's always better to have an expert take care of things rather than risk doing it yourself.
The Main Dangers
Garage door springs come in two types — extension and torsion. The former extend, as their name implies, while the door panels lower, and contract in order to bring them back up. They are usually attached to the tracks that run along the ceiling on either side of your door, and must be interlaced with safety cables to keep them in place when they break. Torsion springs, however, work quite differently. They use torque, which means they twist and unwind to achieve the same goal. Both types rely heavily on tension in order to work, which is what makes dangerous.
Why Breakdowns Occur
The lifespan of your springs are directly correlated to how often you use them, how much maintenance they receive, and climate conditions. In that order. Consequently, the most common reason why garage door springs fail is fatigue. The more stress they're exposed to, the more wear and tear affects them, and the shorter they'll last. Corrosion through rust is a major issue, and lack of regular maintenance allows rust deposits to form which can weaken the metal coils and result in a sudden break if the unit is not replaced in time.
The Risks of DIY
Spring replacement can be very dangerous if you don't know exactly what you're doing. Not only are there proper tools required to safely complete this type of job, the task itself also requires a good working knowledge of the associated mechanics. The powerful metal components involved in the replacement process can be life-threatening and should only be handled by a trained professional. Failure to do so could leave you and anyone who happens to be close by with serious injuries and could cause further damage to your property.
Get in Touch With Us Today
If you have a problem with your extension or torsion springs and need to have them replaced or adjusted, call our team at Garage Door Repair Troutdale right away and let our trained professionals take care of things.
Need more? We also provide:
Opener Sensor Replacement
Garage Door Tune Up Services